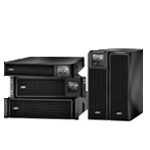 Smart-UPS On-Line
Smart-UPS On-Line provides high density, true double-conversion on-line power protection for servers, voice / data networks, medical labs, and light industrial applications.Read more
Key Features:
Automatically starts up the connected equipment upon the return of utility power.
Ensures clean, uninterrupted power to protected equipment while batteries are being replaced
Allows additional run time to be quickly added as needed.
Maximizes battery performance, life, and reliability through intelligent, precision charging.
Supplies utility power to the connected loads in the event of a UPS power overload or fault.
Prolongs battery life by regulating the charge voltage according to battery temperature.